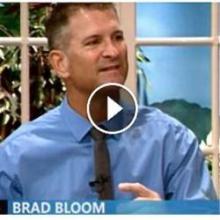 10Jan

Posted by
Brad Bloom
So you like to exercise and lately it's been on your mind that maybe there's a way you could bring together your interest in fitness with your faith. Then BAM! You come across Faith & Fitness Magazine or ChurchFitness.com and you're thinking OK, I've got to explore this further.  Good!
Perhaps you've even talked to someone in your church about starting "something" at the church or you're already working as a fitness professional and you want to expand what you do.  So, now this is more than just being curious. You're thinking, "Help Me --- Pleeeeeezzz!"
People contact me regularly and I promptly help them.  That's the EZ (easy) part. But the next step (and the next and the next) don't have to be difficult. What are those steps?
1. Pray
2. Get one or two people to join with you as a team.
3. Start simple
I shared with Michelle Adams on WCLJ's Joy In Our Town an enthusiastic vision for how anyone can get started.
Click/tap on the video below and watch it now.
Of course to grow the opportunities and pursue all that God has for you and your community isn't always going to be "EZ". However, I'm here to help you learn, network and grow stronger. Don't just ask for help --- Get it today and start being the life of Christ to others.