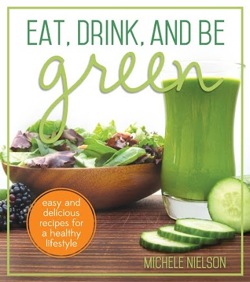 Orange Creamie Greenie
My personal favorite of my green smoothie recipes is my Orange Creamie Greenie.  Its flavor is similar to an orange creamsicle/orange dreamie and most people think it tastes really good.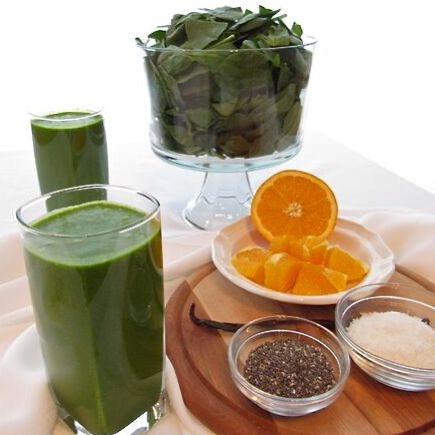 INGREDIENTS:
·  6 oz orange juice
·  2 oz fresh orange (peel removed) or about half an orange
·  1 tsp. vanilla extract or 1/2 of a vanilla bean
·  1 Tbsp. Chia seed or ground Chia seed
·  2 Tbsp. unsweetened fine-shred coconut, like Bob's Red Mill or Let's do Organic (available in most grocery stores in the baking section.)
·  4 oz baby organic spinach
·  3-6 ice cubes or more as desired
HOW TO MAKE IT:
1. Place all the ingredients except the spinach and ice  in your blender in the order listed.  Add half the spinach.
2. Blend briefly until the spinach is incorporated into the liquids.  Add the rest of the spinach and the ice.
3. Blend until everything is very smooth.  If it isn't cold enough, add more ice and blend again.  Drink within an hour of blending.
TIPS:
· Depending on your blender you may need to add the spinach a little at a time instead of in batches and you may need to run the blender for quite a while to get everything smooth.         
· Baby organic spinach has a milder flavor than other baby spinach, that's why I recommend using it here.  Fresher spinach also has a milder flavor.  If you open your spinach and it has a strong spinach-y smell, you may want to try a newer package for your smoothie.
· Coconut helps cancel the flavor of the  spinach.  If your smoothie tastes like spinach instead of like vanilla and orange, add a little more coconut (but make sure it gets blended well.)
· The chia seeds make the smoothie creamy.  If they aren't getting blended to smooth in your blender, try using ground chia or pre-grinding your chia seed in a grain mill.
· If you don't have a kitchen scale to weigh your spinach, try buying a 5-oz package and then using 4/5ths of the package.
---

Get more from Michele Nielson.
More NUTRITION articles from Faith & Fitness Magazine.
Start A Garden Ministry and get Michele's book FREE (while supplies last).
[Tap on the page numbers below to proceed to the next recipe.]
Pages