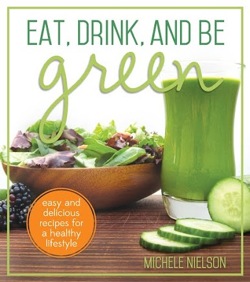 NOTE: This article has multiple pages that include two free recipes from Michele's book Eat, Drink, And Be Green. Tap on the page numbers below to proceed. While supplies last, get your free copy of her book when you attend a Start A Garden Ministry retreat at the Bloomshire Of Gloucester in Virginia.
My husband and I always tried to get the recommended five servings of fruits and vegetables a day. We ate fruit for breakfast, some kind of veggie or fruit for lunch, and a vegetable for dinner. Still it seemed like we couldn't reach five servings a day so I was on the lookout for easy and tasty ways to get more vegetables into our diet. One day a friend recommended a book about green smoothies. Actually, the book was about what I call "intensely" green smoothies—smoothies that have at least as many greens by weight as fruit and no non-plant ingredients. I read the book and was convinced that an intensely green smoothie could help us make up our vegetable deficit since it would give each of us at least two servings of vegetables in one sitting.  It took some time and experimentation for me to come up with a recipe that we liked enough, but when I did, we were believers.  We found that on the smoothies we stayed full longer, had very little desire to eat anything else until lunch, and they were tasty! We felt satisfied that we were getting our veggies and could "check that off the list."
Much to our surprise, after about two months of consuming lots more greens in the form of my intensely green smoothies, we started to crave even more greens. We found ourselves liking salads more, loving vegetables and wanting more greens in our other two meals.  I realized we had reached a real turning point one evening when I asked my husband if he wanted frozen pizza for dinner or just a big salad and he said he would rather have a big salad. At the same time we both stopped caring as much about meat, cheese and high-sugar foods. We were eating lots of greens and lots of vegetables and they tasted good.
Starting to crave greens was a big surprise for us, but bigger surprises and changes were still in store. I had somehow never really believed that what I ate could affect the chronic health problems I had, especially ones that tended to "run in the family" -- I figured I was stuck with those.  I had dealt since childhood with hypoglycemia problems and headaches, since I was a teenager with arthritis and fatigue and since early adulthood with ulcers, reflux, irritable bowel syndrome, back problems, sinus problems and more.  I had tried various medications and treatments, but had difficulties finding treatments that helped one condition without making some other condition worse.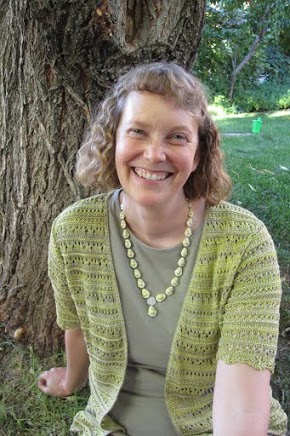 Several months into eating green, I realized that my IBS symptoms had gone away.  I stopped having reflux and never needed antacids.  My sinus problems went mostly away and problems with seasonal allergies dropped dramatically.  A few more months, I stopped having symptoms of hypoglycemia and almost never had headaches.  My back muscles were not as tight and so, my back pain went mostly away. Now, more than two years later, I am finding that I very rarely have any arthritis symptoms.  About ten years ago I was diagnosed with Chronic Fatigue Syndrome and Fibromyalgia and had spent months incapacitated.  Just recently, those symptoms have also begun to melt away like last winter's snow.  I have more energy.   I rarely have muscle pain or brain fog (common symptoms of Fibromyalgia) and it no longer takes me weeks to recover when I overdo.
I'm starting to believe that eating the plants God created, in as natural a form as possible, might just be the medicine I had been looking for and I am realizing that I might be able to do more with my life than I had previously hoped I could.  As I see people around me with health problems -- some minor and some more major -- I wonder if eating this way could help them too.  If more of us could find ways to decrease the time spent being sick, how much more energy would we have to do good in our families and communities?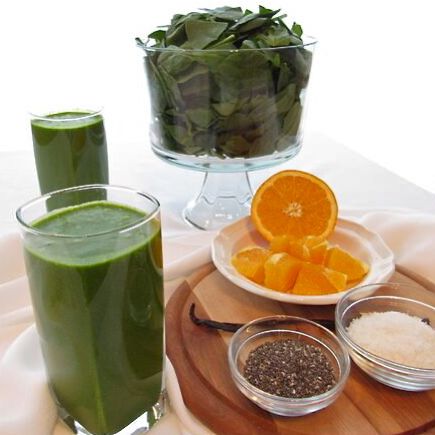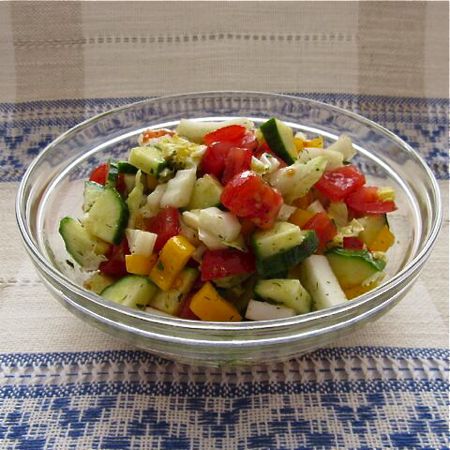 As my friends and family have started trying some of the recipes I developed for my husband and me, they have found that they love my smoothies and are noticing some of the same "good addiction" to eating greens and increases in vitality that we did.  On the next pages I have included my favorite intensely green smoothie recipe and a couple other recipes.  
You can also learn more on my website.
[Tap on the page numbers below to proceed to the free recipes.]
PAGE BREAK
Orange Creamie Greenie
My personal favorite of my green smoothie recipes is my Orange Creamie Greenie.  Its flavor is similar to an orange creamsicle/orange dreamie and most people think it tastes really good.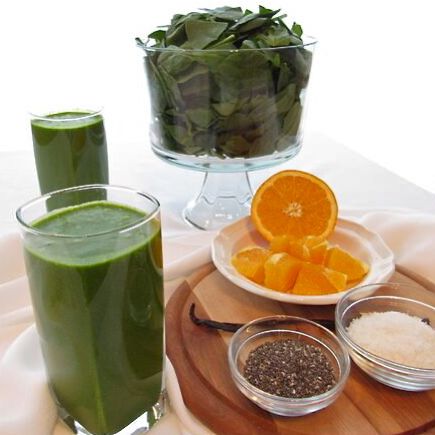 INGREDIENTS:
·  6 oz orange juice
·  2 oz fresh orange (peel removed) or about half an orange
·  1 tsp. vanilla extract or 1/2 of a vanilla bean
·  1 Tbsp. Chia seed or ground Chia seed
·  2 Tbsp. unsweetened fine-shred coconut, like Bob's Red Mill or Let's do Organic (available in most grocery stores in the baking section.)
·  4 oz baby organic spinach
·  3-6 ice cubes or more as desired
HOW TO MAKE IT:
1. Place all the ingredients except the spinach and ice  in your blender in the order listed.  Add half the spinach.
2. Blend briefly until the spinach is incorporated into the liquids.  Add the rest of the spinach and the ice.
3. Blend until everything is very smooth.  If it isn't cold enough, add more ice and blend again.  Drink within an hour of blending.
TIPS:
· Depending on your blender you may need to add the spinach a little at a time instead of in batches and you may need to run the blender for quite a while to get everything smooth.         
· Baby organic spinach has a milder flavor than other baby spinach, that's why I recommend using it here.  Fresher spinach also has a milder flavor.  If you open your spinach and it has a strong spinach-y smell, you may want to try a newer package for your smoothie.
· Coconut helps cancel the flavor of the  spinach.  If your smoothie tastes like spinach instead of like vanilla and orange, add a little more coconut (but make sure it gets blended well.)
· The chia seeds make the smoothie creamy.  If they aren't getting blended to smooth in your blender, try using ground chia or pre-grinding your chia seed in a grain mill.
· If you don't have a kitchen scale to weigh your spinach, try buying a 5-oz package and then using 4/5ths of the package.
---

Get more from Michele Nielson.
More NUTRITION articles from Faith & Fitness Magazine.
Start A Garden Ministry and get Michele's book FREE (while supplies last).
[Tap on the page numbers below to proceed to the next recipe.]
PAGE BREAK
Colorful Vegetable Salad
This salad is typical of chopped vegetable salads served throughout Europe and around the Mediterranean. When we say "salad" in the United States, we most often think of lettuce. This salad has no lettuce, but lots of colorful vegetables and a light, dill vinaigrette.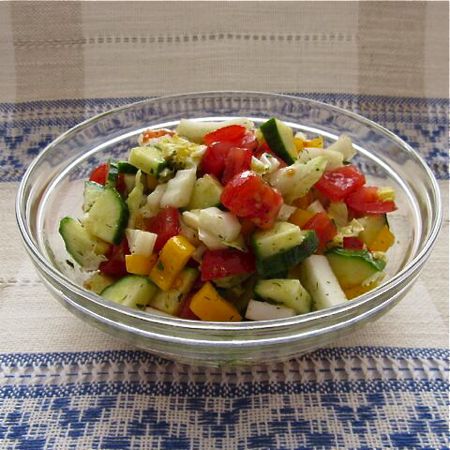 DRESSING INGREDIENTS
lemon juice - 1⁄2 cup
olive oil - 6 Tbsp.
agave or sugar - 2 tsp.
salt - 3⁄4 tsp.
dry granulated onion - 2 tsp.
dry dill weed - 1 tsp.
Makes: 3⁄4-1 cup dressing
SALAD INGREDIENTS
1 English cucumber
4 roma tomatoes
1 yellow or orange bell pepper
about 1⁄4 head Chinese cabbage, finely sliced
DRESSING INSTRUCTIONS
1. Prepare and measure your lemon juice. Whisk together with the oil and agave or sugar.
2. Add dry ingredients/herbs. Let stand while you prepare the vegetables.
The dressing for this salad uses the base ingredients typical of many salads—an acid, an oil, and a sweetener—then adds herbs and seasonings for added flavor.
SALAD INSTRUCTIONS
1. Cut the English cucumber in half or quarters lengthwise, then in thin slices crosswise. Quarter and slice the tomatoes. Remove seeds and stem from the pepper and cut into fine strips or small cubes. Weigh the vegetables and add enough Chinese cabbage to make three pounds total vegetables.
2. Combine all the vegetables in a bowl. Toss with the dressing and serve.
TIPS AND VARIATIONS
• For variety you can also add any or all of the following to the dressing: 1 teaspoon garlic powder, 2 teaspoon s dry parsley, 2 teaspoons dry chives, 1⁄4 teaspoon ground cumin, 1⁄2 tea- spoon prepared mustard (like Grey Poupon).
• You can change the vegetables you use—just try to end up with about 3 pounds total prepared vegetables (1 pound vegetables per ~1⁄4 cup dressing). If you want to make a smaller salad, prepare fewer vegetables and just use as much dressing as you need. Refrigerate the remainder of the dressing to use another time.
• In Germany this type of salad is often served with optional canned corn and flake canned tuna to put over the top and slices of fresh baguette on the side.
• If I'm taking this salad to a party, I usually keep the dressing separate and mix it with the vegetables just before serving. Because there is salt in the dressing, the vegetables will start to "weep" if the dressing is added sooner, effectively thinning the dressing and making it too weak.
---

Get more from Michele Nielson.
More NUTRITION articles from Faith & Fitness Magazine.
Start A Garden Ministry and get Michele's book FREE (while supplies last).