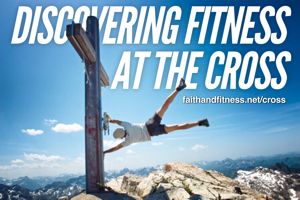 By Scott O. Roberts, Ph.D.
This page is the shorter magazine version.
Proceed to the next page for the full-length original version of this article.
What makes physical fitness boring and a painful, undesirable waste of time for some while others eagerly look forward to their workout? Exercise may not always be easy or convenient to do but in truth, fitness can and should be fun and enjoyable. Getting beyond excuses and distractions is important to live a healthy lifestyle, but finding motivation to exercise is never easy.  Finding Christ on the other hand is.  He sacrificed willfully, gave his life and died on a cross so that through his obedient action we can have vibrant life now and forever. Want to learn how to motivate yourself to exercise? Discover fitness at the cross first.
THE CROSS
What do a cross and fitness have to do with each other?   Some might first think of CrossFit, the fitness regime started several decades ago based on variable functional fitness programming that as their slogan says, "forges elite fitness". However, the cross on which Jesus died forges eternal life fitness.  His cross reminds us of death, pain and sacrifice, as well as freedom from sin.  The cross is a symbol of Jesus conquering death --- his resurrection.  It's so important to truly understand and appreciate the meaning of the cross, which ultimately points us to God's great grace, truth and love.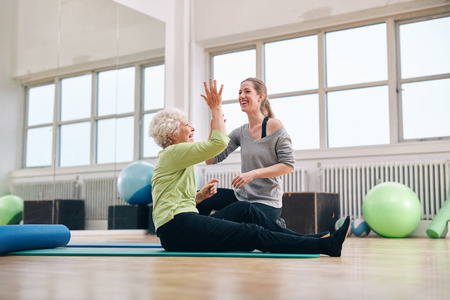 NEW MEANING FOR MOTIVATION
What motivates us to do the things we do like exercising or losing weight? 
Is it fear? "I don't want to have a heart attack and dye young."
Is it guilt? "I know I should but…"
Is it anger? "I'm not good enough."
Is it greed? "If I looked better I would be more popular."
Joy, peace and love are much better motivators and they're ultimately best found in the cross-defeating actions of Christ. God wants us to respond to His love by loving him back, and one way we do that is to respect and care for our body. Internal motivation from your faith guided to serve Jesus is more likely to lead to long-term health behavior change than external motivation for self-gratification.
Keeping Christ at the forefront of all you do gives you guidance and protection. He keeps you from straying from the truth.  Jesus, dying on the cross seems like the most extreme act of fitness – He suffered, endured and paid the ultimate price.
There was nothing attractive about him, nothing to cause us to take a second look. He suffered and knew pain firsthand. One look at him and people turned away. We looked down on him, thought he was scum. But the fact is, it was our pains he carried— our disfigurements, all the things wrong with us. We thought he brought it on himself, that God was punishing him for his own failures. But it was our sins that ripped and tore and crushed him—our sins! He took the punishment, and that made us whole.
That alone is powerful and motivating to fuel your own hard work and perseverance. It isn't optional. It certainly isn't to show off. It's your calling and your privilege to suffer like Christ.
But don't stop there. Many do. The cross experience has two sides – death AND resurrection.
The resurrection factor eclipses all earthly symbols and gives us the ability to translate physical fitness motivation into spiritual vision.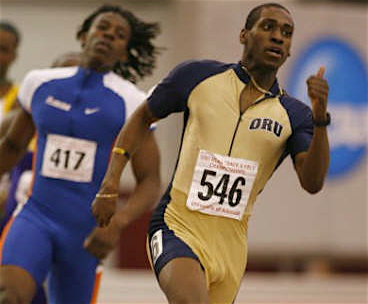 World-class athletes routinely use guided imagery to help improve their athletic performance. Before they even lace up their shoes or hit the pavement, they visualize every aspect of the workout from start to finish.  In her article Guided Imagery: Train Your Mind to Relax and Focus, Deane Alban says, "Guided imagery is a mental technique that uses the power of imagination to bring about positive changes such as relaxation and better focus and performance." Such YOU-driven thoughts, she says, only exist in your mind.
Guided imagery and cross-altered vision are poles apart. Living in Christ (spiritually AND physically) is distinctly different. In his article Can You Imagine, Brandon J. O'Brien says, "From beginning to end, the Bible calls us to adopt a sanctified imagination that helps us look beyond our own experience." Discovering fitness at the cross enables you to look to Christ's victory (over hate, pain, death, sin --- all of it) and take ownership of the vision that Jesus (not you) has crafted exclusively for you. THAT is the change, the improvement, the lower weight, the ability to walk, run, be happy and healthy, the success and the ability to make a difference in the lives of others that you can visualize not as a self-induced imagination but as a God-created reality. This is what keeps us going when there doesn't appear to be any other reason to keep pushing forward toward the goal.
BELIEVE THE TRUTH NOT THE LIE
The truth is we get fit from the inside out, not outside in. It's the same with our faith, when we surrender our lives to Christ we are RADICALLY transformed and renewed (from the inside out). Health is important and we should all strive to achieve a high level of health and wellness. Our methods of pursuit of health and fitness are what we need to consider.  A Christ-centered pursuit of health and wellbeing will be rewarded here on earth as well as in Heaven.
Jesus said to his disciples, "Whoever wants to be my disciple must deny themselves and take up their cross and follow me." Become a Christ-centered fitness disciple.  Adopt a Christ-centered habit of fitness and health for a lifetime.
Proceed to the next page for the full length original version of this article.
---
This article is featured in the February/March 2017 issue of Faith & Fitness Magazine in the Faith and Fitness Culture Department.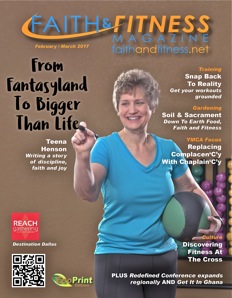 Pages