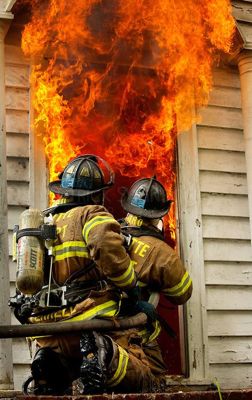 An interview with Craig Duck, President/Missionary Fellowship of Christian Firefighters International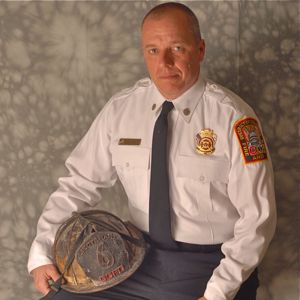 Craig Duck is a veteran firefighter and Retired Lieutenant of the District of Columbia Fire and EMS Department Craig Duck is the fifth President/Missionary of the Fellowship of Christian Firefighters International. His career spans over 35 years. Currently Duck is a Captain with the Boydton Volunteer Fire Department. He is an international speaker and author who travels and gives first responders hope during difficult days in the fire service. He and his wife Holly attend Boydton Baptist Church in Boydton, Viginia. Duck's favorite thing to do in the fire service is to train up the next generation of firefighters. In this interview Craig discusses the physical and spiritual training for firefighters and offers simple yet rather profound suggestions on how all Christians can have a first responder approach to personal faith.
Faith & Fitness Magazine: Craig, first of all thanks for your many years of service as a firefighter. That in and of itself is a true personal ministry.  Share about Fellowship of Christian Firefighters International, what makes it an important part of your life and give us a snapshot of the many members.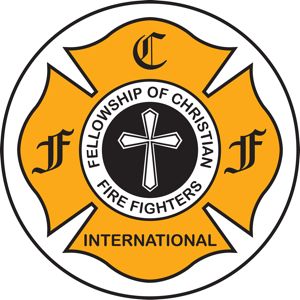 Craig Duck: The Fellowship of Christian Firefighters International (FCFInternational) has been an integral part of my firefighting career. I first learned about FCFInternational from Lieutenant Don Biggs who was assigned to Truck Company 7 in Washington, DC. What a blessing to know that there was a group of firefighters who loved the Lord and tried their best to glorify Him in the fire service. At that time we met together on a monthly basis to share our stories, encourage one another and pray for one another after we studied the Bible.
The fire service can be a difficult place to serve and FCFInternational goes a long way to help firefighters endure the hardships. As firefighters and first responders we respond to a lot of awful situations. These situations equate to significant stress that weighs many down and can ruin lives.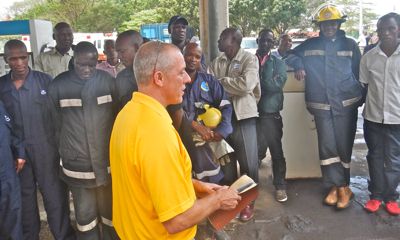 Without Christ as the center of my life it would have been difficult to have such a long and fulfilling career.  Today FCFInternational has become a community where firefighters and first responders can receive resources such as Bible studies, articles, videos and daily devotions. Our vision is to glorify God in the fire service by building relationships that turn first responders hearts and minds toward Christ, equipping them to serve Him.
Faith & Fitness Magazine: We're seeing a lot of new fitness programs for the general public that pattern after training that is specifically designed to help firefighters be their best. You've been a personal trainer. Tell us about this unique form of fitness training, how it builds strength and in what ways the everyday person might find the training to give her or him extra ability to be physically strong for others.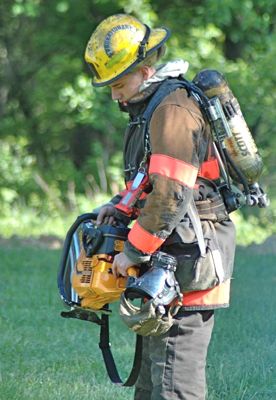 Craig Duck: Firefighting is tough work. Firefighters carry around an extra 45 pounds of equipment that gets heavier once it gets wet. We are expected to work in all types of conditions; extreme heat, cold, long hours, at all times of day or night and at a moment's notice. Firefighters are expected to give one hundred percent at all times and never give up. On many emergencies every muscle group is used until exhausted and firefighters are pushed beyond what most people can endure.
It is no wonder that this is considered a young person's profession. Out of shape firefighters can easily get injured or killed at emergencies. According to the U.S. Fire Administration nearly half of all firefighter line-of-duty deaths are a result of heart attacks. Not all firefighters are in shape. But – there is a growing movement among young firefighters to remain healthy throughout their career. A whole new type of fitness has evolved within the fire service to ensure firefighters are prepared for battle.
---
There are many firefighter fitness-training programs for both firefighters and everyday people that want a more intense form of physical training.  One such example is TACFIT FireFighter developed by Christian Carson and Ryan Provencher.
---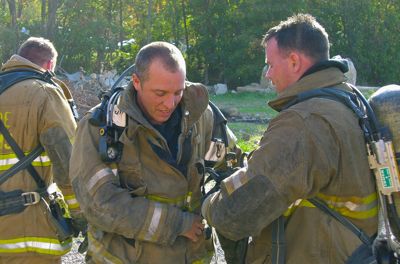 Using firefighting equipment for fitness ensures that the muscle groups that are used during emergencies are ready for peak performance. Dragging hose, pulling dummies, climbing stairs in full gear and using different types of equipment for strength training have been added to regular trips to the gym.
Cardio vascular exercise has not been forgotten by the new generation of firefighters. Playing a quick game of basketball in full gear, including a self-contained breathing apparatus (SCBA), is a great way to improve cardio vascular strength and endurance. You can always tell the companies that are serious about working out. Every firefighter on duty that day will be working together on some type of scenario that not only improves their physical fitness and readiness, but their firefighting skills as well.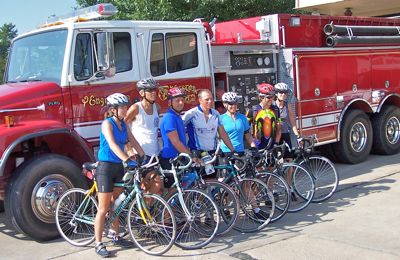 Improve your physical fitness. Train like a firefighter for peak performance. Improve your readiness physically and spiritually so you can BE LIFE to others every time God gives you the opportunity. Pursue opportunities to fellowship and exercise with first responders in your community.
For fitness enthusiasts that want to take their physical fitness goals to a new level, working out with local firefighters can be very good. Firefighters and first responders are used to working in groups and encouraging each other to succeed. If nothing else people will get a real appreciation for the amount of effort it takes to be a firefighter.
Faith & Fitness Magazine: You're a family man. You have four sons. Do any of them follow professionally in your footsteps? How has your vocation strengthened you as a father and husband? How has your faith bolstered you in what no doubt can be for many men a challenging career.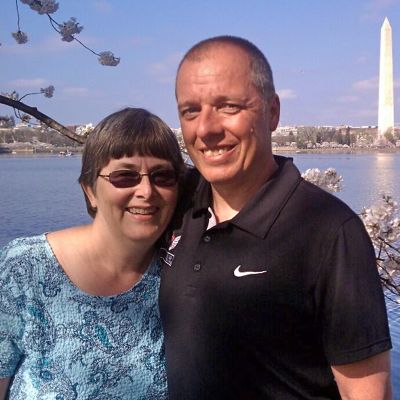 Craig Duck: God has blessed me with a wonderful family. Over the years the four boys have loved me being in the fire service, but none have followed me in this line of work. This doesn't bother me because I believe God has a plan for every believer. They are all following Him as their Lord. Since each one of the boy's births we have prayed for their salvation and we are blessed to have each one of them profess faith in Christ.
Being in the fire service has helped me to be a better husband and father. I have personally seen families that are dysfunctional because a dad is not around. I have also witnessed death too numerous to count. It's a stark reminder that life is short. We should live it well. When I read my Bible and come across verses that remind me of this, I remember calls I have made. Without a strong faith in God and a desire to obediently walk with Him I don't know how I would get through life. As I see other firefighters struggle with issues as a result of these tragedies, I'm reminded to share my faith with them and learn how to glorify God in the fire service.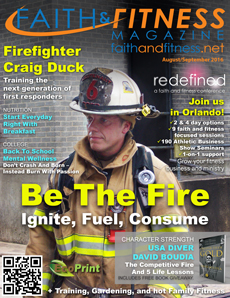 Faith & Fitness Magazine: The theme for this issue of Faith & Fitness Magazine is Be The Fire – Ignite, Fuel, Consume. From your vantage point as a firefighter offer our readers your own unique view into these three phases of a fire and the spiritual parallels of each.
Craig Duck: "Be The Fire" is an awesome theme that speaks to passion and faithfulness. The ignition phase of a fire is unique. In order for a fire to get started one must have a fuel, an ignition source and oxygen. The minute you take any of these key ingredients away, the fire goes out.
Salvation is the starting point for any individual in becoming a Christian and will ignite our passion for God. Without the completed work of Jesus Christ, in whom we place our faith and trust for the forgiveness of our sins, we cannot begin our Christian journey.
Once ignited, our faith can take off like a wildfire. As we fuel our faith with daily Bible reading and studying, encouraging one another as we meet regularly together and learning from other Christians our faith will continue to grow.
Before we know it our lives will be consumed with obeying God and accomplishing His perfect will for our life. The more fuel that is added to the fire the bigger and faster it will spread. Whenever sold-out Christians work together for the cause of Christ the intensity of their passion for God's purpose will quickly spread to others. Others will easily spot the light from our fire as we work with fellow believers to champion the Gospel message in the places that God has placed us.
Faith & Fitness Magazine: Describe one of the most poignant experiences in your firefighting career that had a huge impact on how you live your life for Jesus Christ.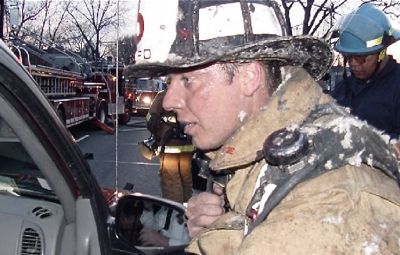 Craig Duck: Certainly the most poignant experience I can point to is 911. On September 11th, 2001 I was working at Truck Company 4 in Washington, DC. Our company was one of several who responded to the Pentagon that awful day. The death and destruction that we witnessed that day will always be on my mind.
Many firefighters and first responders went above and beyond the normal call of duty as they worked to save lives and extinguish the fires that were set by evil. The members of Truck Company 4 worked harder than any other team of firefighters I have ever been assigned to and I will never forget what they did that day.
My faith was changed in a dramatic way as well. I saw first-hand the evil that is in the heart of man and it drove me to cling to a loving, merciful and grace-filled God who desires me to draw close to Him. My daily devotions, Bible reading and study as well as church attendance became more important and critical for my relationship with God.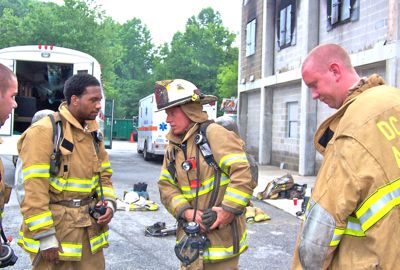 Faith & Fitness Magazine: You're training the next generation of first responders. What are the big challenges they will face in boldly being the life of Christ to others? How can all Christians have a "first responder" mentality in how they live their faith?
Craig Duck: The next generation of Christian firefighters do face many challenge in today's fire service. Recently, we have seen many Christian firefighters and first responders who have been disciplined for their stance on Christ. As an example, the former fire chief of the Atlanta, Georgia fire department, Kelvin Cochran, recently was fired for writing a book for his church that didn't set well with the gay community.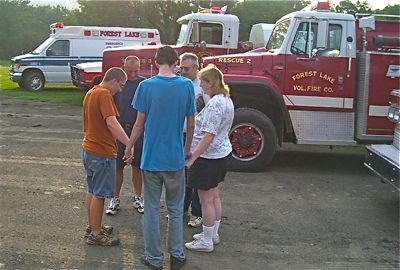 As our society moves farther and farther away from the Christian views that were taught by previous generations we will see more and more conflicts between faith and the fire service. I remind young Christian firefighters constantly that Jesus warned us of this fact. Jesus said; "I have told you these things, so that in me you may have peace. In this world you will have trouble. But take heart! I have overcome the world (John 16:33 NIV)." For Christian firefighters and first responders to be effective in today's fire service they must know their Bibles fully and learn to trust God in every situation.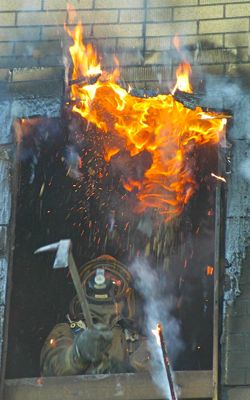 Have a FIRST RESPONDER approach to your faith.
Every Christian can learn from first responders and have a vibrant meaningful testimony in front of others. First responders never give up, are prepared for any situation by way of training and constantly practice the skills they will need for the battle. First responders are also very passionate about what they do and very faithful to whatever they commit to. I am confident that we will see revival in our land when all Christians become fully committed to the cause of Christ.