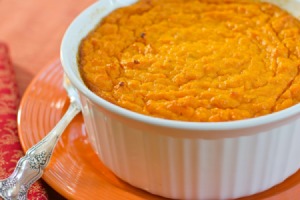 By Constance Brown-Riggs
From the book ©The African American Guide To Living Well With Diabetes
Braised Cabbage                                                                                          
You'll need:                                                                                                    
¼ cup blended Oil
1 small red onion sliced
1 small granny smith apple (cored and sliced)
¼ cup brown sugar
1 pound red cabbage
1 ounce red wine vinegar                                                                               
1 cup red wine
1 cup orange juice
1 stick cinnamon
Here's what you do:
Heat oil in pan on stove top, add red onion and sweat till translucent, add brown sugar till caramelized, then add apples and deglaze with vinegar.
Bring to a boil then add red wine, orange juice and cinnamon stick. Let simmer for 5 minutes.
Add cabbage to mixture and let cook on the stove top for 10 minutes. Then cover with foil and place in 350* oven for 20 minutes till tender and remove, adjust seasoning and serve.
Makes 8 servings     
---
Cornmeal Crusted Catfish                                                                          
You'll need:
½ cup cornmeal, yellow
¼ cup crushed pecans
1 teaspoon paprika
1½ teaspoons garlic powder
2 teaspoons minced onions
½ teaspoon black pepper
½ teaspoon salt
3 tablespoons low-fat mayonnaise
2 tablespoons apricot preserves
1 pound catfish fillets
Cooking spray
Here's what you do:
In small bowl, mix together cornmeal, pecans, paprika, garlic powder, onion, pepper and salt.
Heat medium nonstick skillet over medium heat until hot.
Pour in cornmeal mixture. Cook and stir about 3 minutes or until cornmeal begins to brown. Transfer to platter and set aside.
In small bowl or cup, mix together mayonnaise and preserves. Brush on both sides of catfish fillets. Dredge fillets in toasted cornmeal mixture.
Coat medium skillet with nonstick cooking spray and heat until hot. Reduce to medium heat. Add fillets. Cook until browned.
Carefully turn and brown other side until cooked through.
Makes 4 servings
---
Sweet Potato  Casserole                                                                                                       
You'll need:
3 oranges
½ cup brown sugar, Splenda® blend
¼ cup brandy
¼ cup nonfat/skim evaporated milk
2 tablespoon margarine
½ teaspoon salt
Pinch of black pepper
3 medium sweet potatoes (boiled and mashed)
Pinch ground nutmeg
Here's what you do:
Preheat oven to 350ºF
Zest 1 orange and set aside.
Scoop pulp out of all oranges and drain in a large bowl, add brown sugar and mix.
In a pan heat brandy, evaporated milk, margarine,salt and pepper.
Add the sweet potatoes, orange pulp, orange zest and nutmeg and mix well.
Place mixture in a casserole dish and bake for about 20-30 minutes.
Makes 8 servings
---
Lawrence's Cajun Style Gumbo                                                                                                                             
You'll need:
1 Tablespoon vegetable oil
¼ cup all purpose flour
3 cups low sodium, low fat chicken broth
1 pound chicken breast, skinless and boneless cut into
½ inch pieces
½ cup yellow onion
¼ cup celery chopped
4 cloves garlic minced
2 scallions chopped
1 whole bay leaf
2 teaspoons thyme, ground
2 teaspoons jalapeno pepper
1 teaspoon crushed red pepper
1 teaspoon poultry seasoning
2 teaspoons gumbo file
2 teaspoons gravy master
½ cup okra
Here's what you do:
Preheat oven to 400ºF.
Add oil to small pot, stir in flour.
Place in oven, stirring constantly until flour begins to turn golden brown.
Take pot out of oven and continue preparation on top of the stove.
Slowly stir in broth using wire whisk and cook for 2 minutes.
Add all ingredients except okra. Bring to boil, then reduce heat and let simmer for 45 minutes.
Add okra and let cook for 15 to 20 additional minutes.
Remove bay leaf.
Serve hot in bowl alone or over rice.
Makes 8 servings
---
About the Author: Constance Brown Riggs is a registered dietitian, certified diabetes educator and author of The African American Guide To Living Well With Diabetes.
Reprinted, with permission of the publisher, from THE AFRICAN-AMERICAN GUIDE TO LIVING WELL WITH DIABETES © 2010 Constance Brown-Riggs.  Published by New Page Books a division of Career Press, Pompton Plains, NJ.  800-227-3371.  All rights reserved.