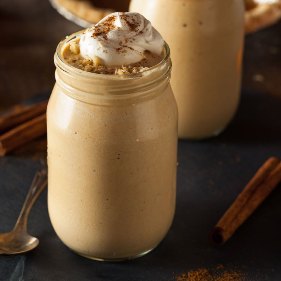 Yes, I am one of those people that indulges in pumpkin everything from the start of Fall through Thanksgiving right on into Christmas. I had some leftover pumpkin puree from the pumpkin pancakes I made the other day. No wasting food around here, I created a yummy way to use the leftover puree. Generally, I like to have something sweet with my family after dinner on Sundays but sweet doesn't have to mean unhealthy, so I grabbed some fruit and almond ice cream and the result was this amazing milkshake that I'm sure you will enjoy!
Here's what you'll need for this recipe:
Ingredients:
1 small frozen banana
1/2 can pumpkin puree (from the can is just fine)
1/2 cup almond ice cream
1 cup of almond milk
1 tsp cinnamon
1/2 tsp vanilla
1/2 packet of raisins (for a fiber boost)
Directions:
Start with the banana; adding that to the blender
Then add the pumpkin
Add the rest of the ingredients
Blend until smooth
Enjoy!!
This recipe is full of nutrients with bananas, pumpkin and raisins. Even cinnamon has anti-oxidant power! For fun you can add toppings like chopped banana, ground graham cracker, or almond based whipped cream. My children absolutely loved this milkshake and had no idea that it was so good for them. Little do they know, there's much more pumpkin to come!
"The world can always use a little more pumpkin." - Arian T. Moore