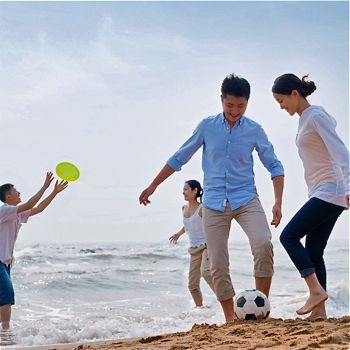 By Kelli Calabrese
There is something about the beach that soothes the soul, connects hearts, gets the body in motion and clears the mind.  It is a combination of the warm soft sand, the sound of the waves crashing, the cool breeze off of the vast ocean, the smell of salt air and people enjoying themselves that brings us on an annual family pilgrimage to the beach. 
I grew up on an island. So did my husband.  People may not consider Staten Island and west Long Island as beach resorts, but non-the less we had access year round to the Atlantic ocean. We both have fond memories of our families gathering for fellowship. 
For our honeymoon we choose a tropical all inclusive beach resort where we could snorkel, water ski, engage in beach games, surf, wind sail, do yoga at the water's edge and read a book with our toes in the white sand.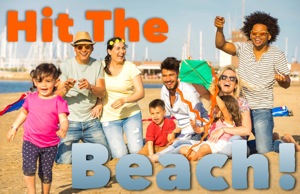 This article appears in our Hit The Beach feature series.
---
Post your Facebook Comments below and share about your family beach time.
---
We made a commitment to visit the beach at least once annually to rejuvenate, grow deeper together and have some fun. Thankfully over the past twenty years we have kept that commitment. We've traveled to extraordinary tropical destinations when God provided and we've enjoyed the more affordable breathtaking community lakes over the years. Visiting water destinations has brought us closer to the Lord.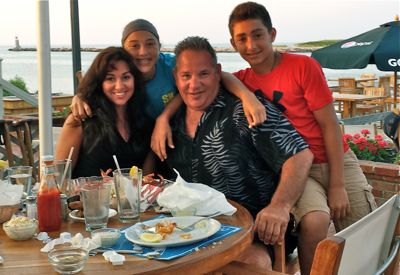 For example, a few summers ago, sitting on a mountainside overlooking a lake in Colorado, my husband realized it was the exact spot he had seen in a dream where boats were pulling up to the shore and bringing provisions to us. At the time we were going through a desert season. It was a great turning point because God used that beach experience as the beginning of things being multiplied back to us.   
When our children were born we kept our annual beach commitment. Nicholas was 8 months old and I was pregnant with my daughter when he tasted sand for the first time – literally.  It was the first time he actually entertained himself by the fascination of sand pouring through his tiny fingers.
Now that the kids are tweens, we spend our beach time doing a variety of activities ranging from long walks where we get to explore the scenery and collect shells as well as explore both sea life and a variety of conversational topics.  We surf, play Frisbee, beach volleyball and bocci ball.  They love doing gymnastics in the sand.  A new game we played this year was called Kan Jam, which is similar to soccer with a Frisbee.  It gets your heart rate up, legs pumping and competitive juices flowing.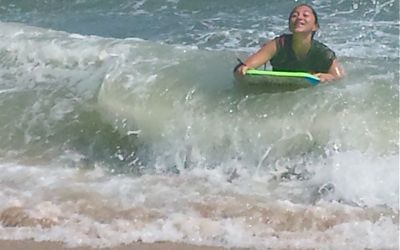 The beach is a perfect playground.  Trough it, I've learned that the world is our gym.  The beach can take you out of your comfort zone (fear of the water, fear of how you look in a bathing suit) and have you trying new things like yoga on a paddle board, wind surfing or racing your kids into the water.  While the beach can be a place for spectators on a blanket, it's the perfect place and opportunity to combine relaxation with movement.
Think about how rare it is these days for kids to get to spend the majority of a day outside playing with parents . . . burying each other in sand pits, doing cartwheels, swimming with a school of fish and racing full speed into the oncoming waves.  Kids typically encourage parents to get out of their beach chairs and join in the fun – which every mom, dad and kid could use more of. 
Just like all situations, time at the beach can be a perfect environment for life lessons such as taking turns, being patient, listening, following safety rules, being respectful of people and nature, looking to fill a need, learning and making the most excellent choices. These life lessons happen naturally. All families have to do is be ready to recognize them and then make them an opportunity to grow in God and grow closer to each other.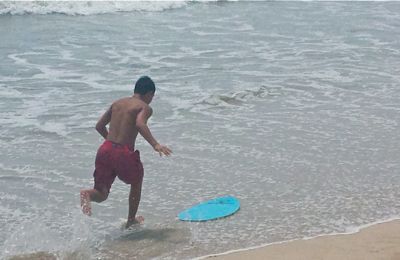 During this week we take time to share who and what we are thankful for and take the time write and mail thank you cards. I'm always surprised to hear what my family comes up with. Just when you think the kids were not paying attention or feeling entitled, they melt your hearts. For example, my daughter wrote cards to "the barn girls". These girls are in high school and have taken her under their wing to teach her, keep her accountable, push through limiting beliefs and feel included.  My son wrote one to a former neighbor who gave him his first job a few summers ago. He took care of their garden and pool while they were gone for the summer.  It made an impression.  My husband and I worked on our family plan which includes everything from date nights to exercising, family meals, budgeting, discipling our children as well as planning our next getaway.
A trip to the beach combines fitness, fun and family fellowship. While we typically think of the beach as a summer destination, the truth is many beaches remain comfortably temperate well into September, October and even November. With a little thought and anticipation by all, you can plan autumn beach activities that the whole family will enjoy.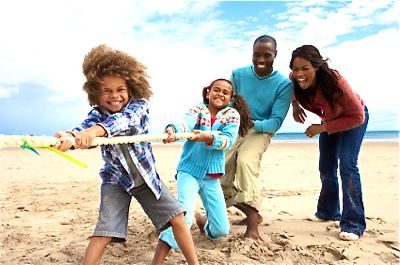 I strongly encourage you to start now to plan a beach vacation (and if your family prefers mountains, desert or someplace "away" that can serve your purpose equally well). I am always in awe that the Lord created the earth (trees, water, animals, mountains, and every creature one time and its sustained it self for thousands of years in all its majesty.  We all need to get away with Him, rest and allow time for recovery. There is no better place to do it than in His creation with the ones you love the most.
In autumn beaches tend to be less crowded. So they are even more conducive for you to get into a restful state of mind. On one of our trips I read a book called "The Rest of God" by Rich Buchanan. It's about restoring your soul by restoring rest in Him. There is a reason for Sabbath and sabbaticals.  It's easy to neglect God in the demands of our day to day world.  Even our vacations can seem hurried and task oriented. However when your agenda for your beach vacation intentionally includes God then it's the perfect opportunity to experience the taste of the heaven we anticipate.  Be intentional about it.  Set yourself up for success. For example, I know a week at Disney would be more challenging for us to experience God despite his omnipotence. A week basking in His creation is certain to drive forward your relationship with God and with your family.
When planning our vacations we consider the time of year that works best, the most ideal destinations for that season (keeping in mind water temperatures, hurricane season), if there is anyone we are led to invite to share in our getaway (another family or individual person), including each member in the planning process so they have a choice and responsibility in it, choosing a new devotional book or family workbook to encounter daily and most of all praying that kingdom work be done from beginning to end.  I'm believing your next getaway will be one where you personally encounter the Lord and grow deeper as a family.
---
Some of Kelli's Favorite Fitness activities at the Beach
Cardio: Jogging in the sand, Swimming, Soccer
Speed agility & quickness: Volleyball, Paddleball, Frisbee
Balance & Core: Skim Boarding, Surfing, Gymnastics in the sand, Yoga
For fun: Bocci Ball, Relay Races, Hacky Sac, Limbo Contests
---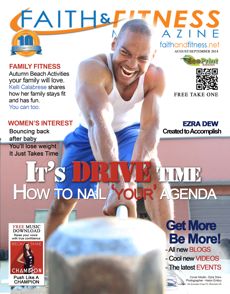 This article appears in the August/September 2014 issue of Faith & Fitness Magazine, which has the theme It's Drive Time - How To Nail Your Agenda.
Share it with your friends and post a Facebook comment about this article below.