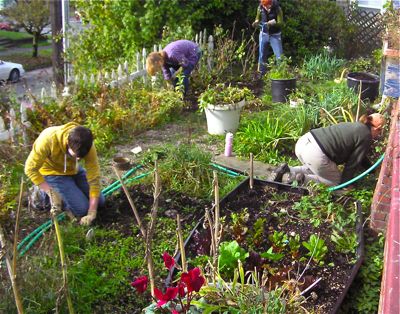 In the last few years millions of people have taken their exercise outdoors during the summer, become novice gardeners and started growing their own food. Some plow-up their lawns. Others invade parking strips. Churches too are transforming vacant lots and unused green spaces. Even the White House planted a vegetable garden to provide organic greens for the presidential dinners.
NOTE: Read all 4 pages of this article to get ideas and examples you can use.
For some this is a way to provide more healthy, locally grown organic food and develop healthy eating habits for their families. For others it is an opportunity to reach out to the marginalized by providing fresh produce to food banks and homeless shelters. For many it simply provides a chance to get outside and enjoy nature.
A common motivation for faith-centered community gardens is to respond to the opportunity to help those in need. Churches and small groups of Christians want to heal our earth or provide a beautiful green space for their congregations and neighbors to enjoy God's good creation.  
Click below to continue to the next page.
Pages