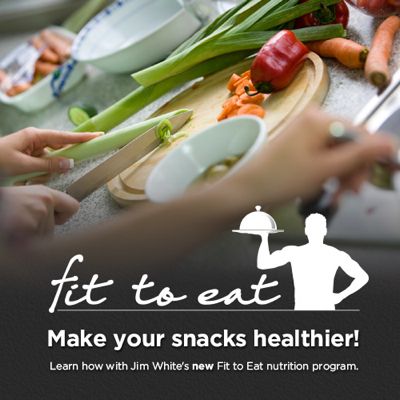 Have you ever heard that saying "you don't get abs in the gym, you make them in the kitchen"? Well it may sound crazy, but it's true. Getting fit isn't just for your "outside," it's for your "inside" too. With this philosophy in mind, Jim White Fitness & Nutrition Studios in Virginia Beach, Virginia has developed the new Fit To Eat cooking classes. With Fit To Eat classes, you can enjoy a fun-filled, educational get-together where you and others will be eating, tasting and learning about interesting ways to get and stay nutritionally fit.
The class has been developed by Jim White, Registered Dietitian Nutritionist, Spokesman for the Academy of Nutrition and Dietetics, and owner of JWFNS; Sue Maume, Registered Dietitian Nutritionist and Nutrition Department Manager of JWFNS; and John Telfer, owner and Executive Chef of Chef by Design catering company. Fit To Eat classes give you the opportunity to enjoy delicious food and drinks, watch cooking demonstrations of new and creative dishes, collect mouthwatering recipes, participate in taste tests, learn nutritional facts, get helpful hand-outs, discover where to buy specific ingredients and most importantly have fun.
The series of class topics are varied and may include everything from slimming desserts to sensational snacking, five-minute meals, low-calorie appetizers, and more.
 
TIPS TO START YOUR COOKING CLASS
To design your very own health conscious cooking class, here are a few tips on to start one in your gym, church or community.
1. Find yourself a chef. Check your local caterers to find one that can best suit your needs or even a good friend that you've always thought had exceptional cooking skills. Keep in mind that you will need your chef to educate your guests on how to cook the food. We've also found it especially helpful when the chef gives us history on the foods, where you can find it, and the best ways to prep it.
2. Connect with a dietitian in your area. Whip out your computer and research a dietitian in your area. We make sure that a dietitian is assisting us during our meal planning stages as well as being present at the class. This way your guests are able to ask any questions they may have during the class.
3. Pick a theme. Do most of the guests you'll be inviting have children? Host a "cooking for kids" class. Is it almost summertime? Make your theme summertime snacks. Whatever you decide, make sure you have fun.
4. Determine Costs. You'll need to sit down and determine your costs for hosting the event. Keep in mind the price of food and drinks, location, chef services, dietitian services, all the serve-ware and anything else you may want to include.
5. Invite – invite – invite! Invite anyone and everyone, even if they are not particularly "health conscious". This class may be just what they need to start making a healthy lifestyle change. If you're hosting Fit To Eat at your church then invite people from local gyms. If you're doing it at a gym then invite members from local churches.
6. Host your event. Taste new foods. Learn about nutritious recipes. Laugh. Have fun!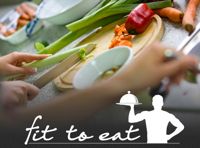 TIPS TO MAKE YOUR COOKING CLASS FAITH-CENTERED
Making your Fit To Eat class faith-centered is easy and doesn't have to be preachy. You may want to start with prayer or read a Bible passage or two. You might even have some Christian music playing at times when it complements the experience and doesn't distract from instruction. But, these are just some of the basics to consider.
Build into the class two or three short small group discussion breaks. Conversations might cover: - Food cravings and ways to overcome temptations - How God-given foods can be flavorful and savory. - God's design for regulating blood sugar. - How coming together to grow and harvest a community garden can strengthen fellowship and Christian worship. - The role of fasting in your nutritional and spiritual journey. - Pursuing God as a means toward reducing stress and improving diet.
Other group discussion topics can be found in our Nutrition department, Health & Wellenss department or Gardening department.
Additionally, your Fit To Eat class is a great time to make the many faith-centered nutrition and fitness books and resources available for participants to review. Your church or gym should have a continually growing library of these resources. Give participants time both before and after the class to review these materials and consider giving them a checklist of all the resources. They can check the ones they like best to give you an idea of what fitness ministry program may be of greatest interest to your participants. Be sure to have a few extra copies to give away in a random drawing for those who return a checklist.
You'll no doubt explore and develop other ways to make your Fit To Eat class faith-centered. The general idea is to make this event fun, informative and transformative. Too often people are convinced that in the area of diet and nutrition God is working against them – that faith only provides a long list of what they can't eat. This is your opportunity to help them discover food done right!eous. Let them know that God is the creator of food that is purely fabulous. The Chef is in the house and He wants them to be fit to eat.
Faith & Fitness Magazine can help you more to launch a Fit To Eat program in your community. CONTACT US.
Connect with Jim White Fitness & Nutrition Studios