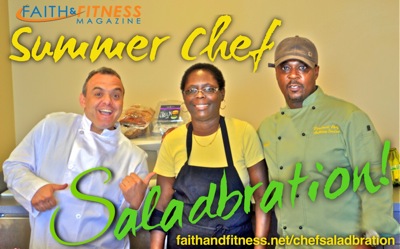 Afro-Summer Salad
When you're ready to explore just how far fruit can take a garden salad, Chef Jordan's refreshing salad will have you hooked.  He uses melon, black berries, raspberries and kiwi - four fruit he knows go well together. Then he adds apple chips as a crisp bonus. From here you'll want to try your own fruit combinations as you create your own signature salad.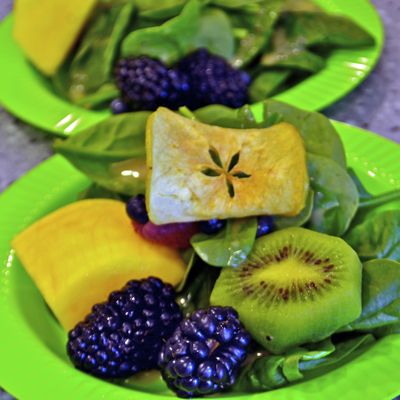 Organic Spinach
Melon (chuncks)
Black Berries (whole)
Raspberries (whole)
Kiwi (sliced)
Apple Chips (dried slices)
Lightly drizzle Honey Poppy Seed Dressing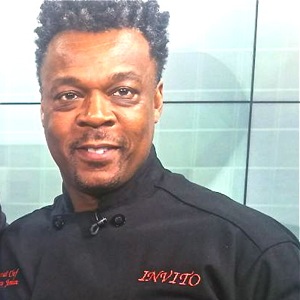 About Invito Personal Chef Anthony Jordan:
Chef Anthony Jordan was born and raised in Cincinnati, Ohio.  He became a prep cook at age eighteen at Bachuss in downtown Cincinnati across from Historic Music Hall. A decade later he was a line cook at La Masionette, a restaurant that won the Mobile 5-star award for forty years consecutively. He always wanted to start his own business and in 2012 Invito Personal Chef was launched. Today, through his business he does healthy food preparation and demonstrations for athletes, people with health issues and everyday individuals. He plans to open a local restaurant later in 2017. Chef Jordan likes making the Afro-Summer Salad because it is light, easy to do and seasonal.
Use the numbers below to read all the pages in this article.
Page 1: Introduction – We celebrate the summer, you can too.
Page 2: Senegalese House Salad – Chef Yvonne Howard
Page 3: Greek Salad – Chef Nick Semertzides
Page 4: Afro-Summer Salad – Chef Anthony Jordan
---
This article appears in the Nutrition Department of the June/July 2017 issue of Faith & Fitness Magazine.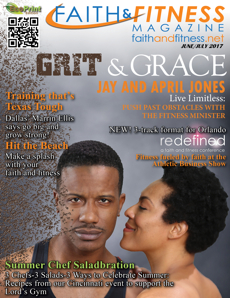 Pages