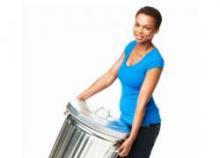 05May

Posted by
Arian Moore
The idea of this challenge came to me as I was reading a devotional the other day. As I constantly seem to be adding more and more to my plate, it became evident to me that I needed to do some spring cleaning in my life. I had recently eliminated a number of television shows from my arsenal of entertainment. The trigger was pulled by a recent blog that I read by Christian speaker, Heather Lindsey. The article made me really reconsider the media choices that I was making and how those choices were affecting my life, my ideals and most importantly, my spirit.I was reminded of the Bible verse, "Finally, brothers and sisters, whatever is true, whatever is noble, whatever is right, whatever is pure, whatever is lovely, whatever is admirable—if anything is excellent or praiseworthy—think about such things." But how could I think on these things when I was constantly filling my mind with trash? I realized that I just couldn't. Colossians 3:2 says, "Set your minds on things above, not on earthly things."
As I began to clean house in my choices for entertainment, I realized that there were other areas of my life that could use some cleaning and that's the root of this challenge. The challenge calls for a removal of the 'unneccessaries' that distract us from the important areas of our lives, like family and spending time with God. It's called a challenge because it will in fact be challenging. Change is never comfortable and neither is stepping out from the crowd and doing the thing that you know is right. I went through this recently as I made the decision that I could no longer watch the show Scandal and that I could not listen to Beyoncé's music. Yet when I had discussions with friends (even Christian friends) about my conviction, I was ridiculed or told that I was being rigid. We should always encourage each other to follow Christ's example of living. Remember, that we are to live in the world but we are not to take on the thoughts of the world. Romans 12:2 says, "Do not conform to the pattern of this world, but be transformed by the renewing of your mind."
---
TAKE THE TRASH OUT CHALLENGE AT YOUR OFFICE, CHURCH OR IN YOUR COMMUNITY!
The Trash Out Challenge is a simple and practical way to engage your family, co-workers, gym or church members to reduce the distractions of junk food, junk media and trash talk and focus more on God toward a more wholly fit lifestyle.  Contact Arian Moore for tips and encouragement to launch this free Trash Out Challenge in your area.
---
The goal of this challenge is to encourage a transformation on the inside of you. Research suggests that it takes 21 days for a habit to form. Hopefully, after the 21 days you will see such an amazing change in your life that you won't desire to return to former habits.
The challenge begins June 1st and ends June 21st. It entails the following: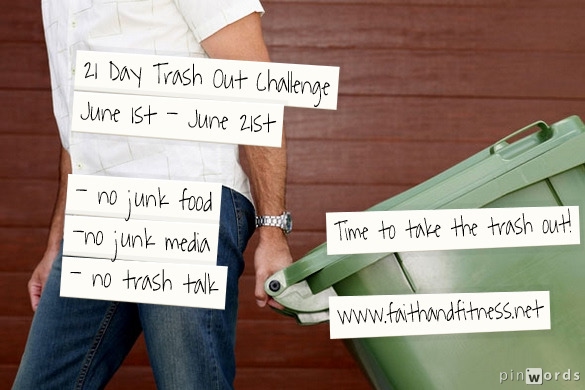 NO JUNK FOOD – Replace the chips and sweets with fruits, veggies, nuts, lean meats and beans.  Did you know that good nutrition contributes to good mental health? As we focus on gaining healthier minds, let's up our nutrition intake by eating only those foods that are 100% beneficial to our bodies and drinking plenty of water. Other junk foods include fast food, soda and sugary drinks, candy, cookies, ice cream, cakes and any other foods that are high in calories, sugar and/or fat but low in nutritional value.
NO JUNK MEDIA – Replace the reality TV, negative shows, gossip websites, and questionable music with positive forms of entertainment. Maybe watch the Discovery Channel with your family or improve upon your cooking skills with some Food Network shows. Whatever you watch let it be pure, let it be positive.
NO TRASH TALK – Let the words that come from your mouth be uplifting and optimistic. Don't gossip, don't put down or complain and refrain from using fowl language. 1 Peter 3:10 says, "For, "Whoever would love life and see good days must keep their tongue from evil and their lips from deceitful speech." Let's use our words to build each other up and to edify our spirits. Let's speak good things from the good that is stored within us.
Are you in? Be sure to comment on your progress so far and if for some reason you can't join us now, start the challenge when you can. Happy trashing!
---
POST CHALLENGE REVIEW
The challenge was no easy task. The most difficult aspect for me personally was avoiding sweets. Father's Day  and a family member's birthday came during the challenge and there were cakes and cookies all placed before me. Yet, I reminded myself of the commitment that I made and held steadfast to the challenge. I have discovered that my sweet cravings are much more minimal than they were prior to the challenge.
The elimination of trash talk was not as difficult as I thought it would be but I had to remind myself a few times to avoid gossiping and repeating negative things about others. One thing I noticed about the junk media aspect of the challenge was that it was difficult to find alternatives. I found myself glued to the Food Network and even watching the Smithsonian Channel. Let's just say I added a few recipes to my arsenal and learned some new things about cheetahs.
Next year when we commit to this challenge I would like to add the no social media component to the challenge. While the focus on removing junk media allowed for few distractions, I found that I would have been even more dedicated to positive thoughts and more time with God had I not been able to check my Facebook and IG.
I surely pray that others were as inspired as I was taking on and completing this challenge. It is proof that we can do all things if we (1) have faith and (2) carry out actions needed to accompany our faith.