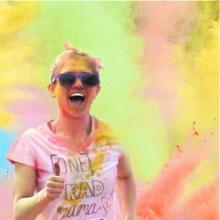 24Mar

Posted by
Brad Bloom
Is your FAITH a smoke screen?
Run into God's brilliant presence.
One of the biggest challenges I think we have personally and socially these days with faith in Jesus Christ is the success factor. There are new television shows based on the Bible, impressive theatrical film releases, slick websites, publicity campaigns, gorgeous personalities and initiatives engineered to attract interest and general consensus from the broad public --- all for the cause of Christ. This is all good and nice. In fact I think it is exciting to see Christians committed to being Christ to others with excellence.
The challenge/opportunity though that God gives each of us is to make it personal. God's son, Jesus did the mass presentations BUT He really honed-in on the one-on-one. When the disciples – his closest followers said, "Wow cool, do more impressive signs and wonders to thrill and amaze", Jesus instead offered something far more colorful.
His invitation is to experience faith more vividly through a pursuit of greater depth. It is a brilliance that is rich in subtle nuances.
The Colors Of Fitness is our April/May 2015 issue of Faith & Fitness Magazine. Be ready to get inspired and encouraged. Then embrace the boldness God gives you to inspire and encourage those around you.
Is your FITNESS a smoke screen?
Earnestly build a vibrant strength for God's purpose.
I'm a big-time advocate of making fitness fun. But what happens when we make it too much fun?
Too often people approach exercise and wellness with dread and ire.  That's right, "ire", the chagrin, irritation, vexation, anger, and outright outrage – the ugly colors of a physical lifestyle that can find a brighter energy through God's grace and provisions.
Being in the gym or simply in the presence of those who exercise doesn't make you fit. All of the right equipment, apparel, supplements, training and intentions won't make you strong. Today's culture makes too much fun out of physical fitness. All the apps, entertainment, packaged solutions and hype create distractions – a smoke screen to real hard work and enduring wellness.
God wants you to enjoy the full spectrum of fitness.
The Colors Of Fitness is our April/May 2015 issue of Faith & Fitness Magazine. Look for the newest shades of exercise and nutrition so you can paint the picture that God sees in a healthy YOU!

---
BIBLE VERSES AND MUSIC TO INSPIRE YOU
Everything that is illuminated becomes a light
The unfading beauty of a gentle and quiet spirit
As the earth burst with spring wildflowers, so God puts praise on display