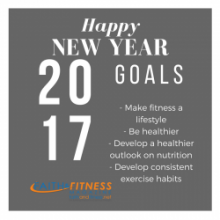 28Dec

Posted by
Arian Moore
Well, in a few days we're saying goodbye to 2016 and heading into a new year. This is the time where many of us make goals and resolutions and many of those goals include weight loss, better eating habits and overall health goals. Losing weight was the number one new years resolution for 2015. The fact is, most people make goals and yet find that though they made some strides, they have either back tracked or not reached their goals at all by the end of the year. According to research from the University of Scranton, 45% of Americans make resolutions, yet only 8% actually reach those goals.
When it comes to weight loss I believe that we are aiming after the wrong thing; vanity. Looking good sounds good, but for some its not motivation enough to stay consistent in living a healthy lifestyle. See, its not about going on some diet, working out to see results and then going back to the same habits. That mindset will not yield a lasting change. Fitness has to be made a lifestyle, this means that you have to have a complete mind renewal in the area of nutrition and exercise. Eating healthy is no longer about dieting but about making healthier choices daily. Exercise is no longer about seeing results, its about making exercise a priority at least four times a week.
But this is not a surface issue at all, its much deeper. Every battle that we face is spiritual, so we overcome in the spirit. The mind renewal process previously mentioned begins with the word of God. What does God's word say about our food intake (being greedy)? What does God's word say about how we should treat our bodies? We are Christians; that's not a title, that's a way of life. Romans 1:17 says that the righteous live by faith. This means that our faith encompasses every aspect of our lives; our health, our finances, our marriages, our parenting--every avenue of our lives.
We are taught that our bodies are the temple of God (1 Corinthians 6:19) and that we should honor that temple (1 Corinthians 6:20). To honor something means that we esteem it; that we regard it with great respect. Thus, the food we eat and the way we treat our bodies should speak to the regard we have for it. The Bible also speaks on the issue of gluttony saying that one who operates in gluttony has an earthly mindset (Philippians 3:19), whereas our minds should be kingdom focused (Colossians 3:2).
Perhaps we would find that our goal should not be to lose 10 lbs. or to get back to some perfect weight, but our goal should be to make whatever we do, our eating, sleeping and movement be for the glory of God (Colossians 3:17). Otherwise, we simply find ourselves making the same goal year after year.
How will you make 2017 different? Here are some changes you can make today that will help you make a permanent healthy lifestyle change.
Pray and ask God to help you make healthy choices
Meditate on scriptures that encourage and motivate you to live healthier
Educate yourself on nutrition
Start a food diary to determine where you struggle most (make note of the mood are you in when you eat)
Drink plenty of water...a minimum of 8 glasses a day
Find a way to get moving at least four days a week (dancing, swimming, walking, boot camps, etc.)
Here are some quick nutrition tips:
Opt for grains instead of white bread or pasta
Eat 4 to 5 servings of fruits and veggies a day
Choose lean, grilled or baked meats
It's worth repeating...drink water. Make it your first choice of beverage
Let's make 2017 the year that we honor God with our bodies by making healthy choices and living in such a way that He is glorified in all that we do!