03Apr

Posted by
Arian Moore
Well I am  moving right along with this pregnancy, this being my third it seems to be going by a lot faster than I remember. I went to the gym today and after I finished my cardio I went on to do some strength training on a few leg machines. I couldn't help but notice out of my peripheral, a woman staring at me from across the room and it wasn't one of those "I know you from somewhere stares." With the frown on her face and the uncomfortable concern she seemed to have, it appeared to be more of the "what does she think she is doing" stares. I imagine she thought, "a pregnant woman has no business trying to lift weights."This is a terrible misconception.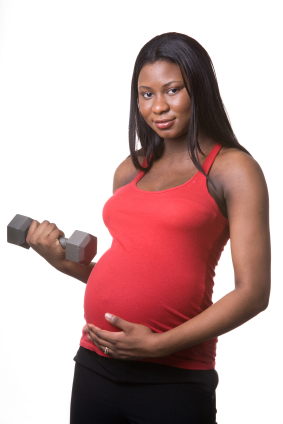 I have exercised through each of my pregnancies and I've found that exercise makes me feel better overall. Being pregnant does not license us to become couch potatoes and abandon our physical activities. The American College of Obstetrics and Gynecology recommends that pregnant women participate in 30 minutes or more of moderate exercise per day on most if not all days of the week (WebMD).
There are tons of benefits to being active while pregnant.Some of the benefits include:
improvement of posture
better sleep
increased energy
prevention of gestational diabetes
decrease in back aches
decrease in swelling
increase in stamina needed for labor
prevention of unneeded weight gain
makes getting back to your previous weight easier after baby's birth.
Of course not all exercises are appropriate for a pregnant woman. You should avoid any exercise that poses a risk for falling or injury, such as horse back riding or contact sports. Some safe activities are walking, swimming and low impact aerobics. My favorite exercise to do while pregnant is Zumba. It feels so good moving my hips and swaying to the beats.
Nutrition is another important element to consider during pregnancy. It is recommended that pregnant women gain no more than 25 to 35 pounds (this may differ in the case of multiples). These numbers become impossible feats if we are constantly eating the foods that we crave; fatty foods and sugary snacks. Our nutrition should overall be the healthy foods that we all have become so familiar with; whole grains, lean meats, fruits, veggies, nuts and some source of milk whether dairy, almond or rice.
To gain a healthy amount of weight, a pregnant woman only needs an extra 300 calories per day. Now I am not saying that pregnant women should avoid the foods that the crave. As a write this, I see spoonfuls of banana pudding twirling in my head. What I am saying is that the same way we monitored our food intake before pregnancy, we should monitor it during pregnancy. It may even be a good idea to keep a food diary so that you are aware of how much and how often you are eating. It is also a good idea to always keep healthy snacks with you. I keep almonds in my pocket to prevent hunger when I am out and about.
If you weren't living a healthy lifestyle before pregnancy, this is the perfect time to start. In a few months you will be a mother; you will be setting the example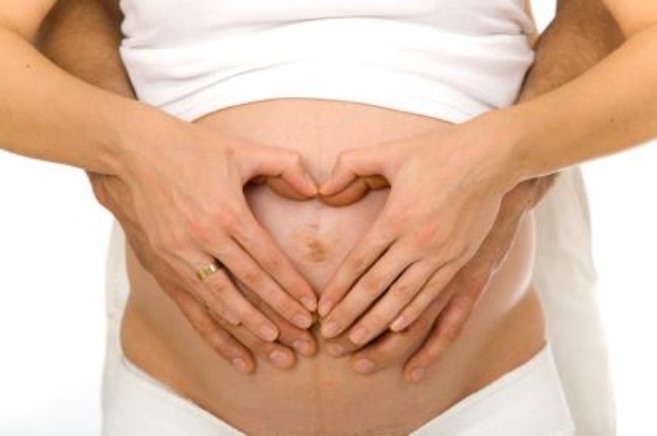 for another human life and demonstrating to them what they should eat and how they should take care of their bodies. Psalm 127:3 says, "Children are a gift from the Lord; they are a reward from him." What a precious gift you have growing on the inside of you. Take care of that gift by setting a sound example of healthy living.