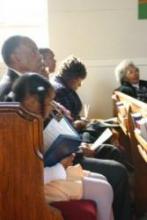 30Mar

Posted by
Arian Moore
Am I the only one starving by the end of church? We aren't supposed to have food in the sanctuary and by the time most churches let out, three hours have passed. Even if I ate a decent breakfast, I am so hungry by the time service is over and I finally make it out of the parking lot.
This is where the battle begins. Most will either journey to a fast food, soul food or buffet restaurant and because we are so hungry, we go overboard. Our eyes are bigger than our stomachs and we want to try a bit of everything.
Studies show that those who are religiously affiliated tend to have higher rates of obesity but the studies don't say why. Some point to the church gatherings that often have tables topped with unhealthy food. But aren't these gatherings usually after church? Could it be that we are just so doggone hungry after sitting in church for three or four hours?
A 2007 study done by Purdue University Professor Ken Ferraro found that those who attended church regularly were more overweight than the general population. Another study done on young adults in 2011 by author Matthew J. Feinstein found that those who regularly attended religious services were more likely to become obese by the time they reached middle age.
It's a fact that when you wait too long to eat you usually binge. Your blood sugar dips and as a result you become irritable and cranky (perhaps that's why some aren't in the best of moods leaving the church building).
Here are my tips on avoiding the results of after church hunger:
Eat a balanced breakfast before you go to church.
No matter what time your service starts, you need to eat before you go.
Bring healthy snacks
If you have to travel a long way to get to church and a few hours have passed before service begins, eat a quick snack before you enter the sanctuary.
For those of you who have a short ride to church but are starving by the time service ends, have your snack as you depart.
Snack Ideas
1 serving of almonds
A serving of fruit (an apple is probably the easiest to carry along).
A protein bar (make sure it's filled with nutrients and is free of added sugars, additives and preservatives).
Low fat or fat free yogurt
These are just a few quick snacks you can pack to avoid packing on the after church plate which may eventually lead to you packing on the pounds.
Serving the Lord and worshipping Him in His house is what we do, but His will is that we are our best selves while doing so. Be your best by honoring His temple!
Photo Credit: Anissa Thompson