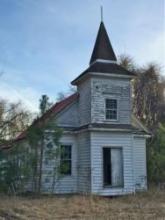 12Mar

Posted by
Brad Bloom
I ride my bicycle on the back roads near my home and often pass a small church building. It no longer has members or serves the local community instead it is a storage space for a local farmer.  Maybe I've been watching too many home renovation shows on television lately but I can help but imagine how this charming little church building could be restored for a greater purpose.
The mission for this building would be the same as the original intention of those who built it – ministry. It would provide a place of fellowship, instruction, compassion and grace, worship and strength – everything church is meant to be. However, the approach would be different. Inside would be some basic exercise equipment. There would be a space for group exercise that doubles as a room to gather for prayer and Bible study as well as instruction on proper nutrition and healthy living. Out back there might even be a hot tub for a post-workout soak and friendly conversation. It would be a place where once again people would want to gather frequently for fellowship and passion-filled living.
All churches of any size, from large to small, can do fitness ministry. Watch this short CBS News story, which includes a brief comment by me.  -Brad Bloom, Publisher, Faith & Fitness Magazine.
Boutique stores and restaurants are always trendy and attractive. Their limited square footage has no bearing on their ability to be successful. Instead they demonstrate that the smaller their size, the bigger their vision.
It can be the same with your church. Mega-churches like big cities are always cool. They do everything on a grand scale. They have lots of people, lots of space and lots of services. But the smaller church can facilitate a top-notch fitness ministry. It doesn't take big bucks as much as it takes BIG VISION. It is a vision to create space for people to be active, gather for robust community relationships and pursue a vibrant life found in God.
If you attend a smaller church then get going. Your community is ready to 'hit the church' for a workout they can't get anywhere else. If you bike or run or drive past some little church that is now closed then I want to hear from you and help you to bring it back to life. A new life, a better life so that you can BE LIFE to those who need a big vision of what life can be.