My husband and I purchased our first home in a small, urban Illinois town a few years ago. I knew without a doubt one of my first goals would be to grow a summer garden. I grew up on gardening. I learned from the long hours, hard work and dedication that it took to grow life from a small seed. That small seed contains everything it needs to produce beautiful fruit. Well, almost everything. It needs a cultivator.
In my early years as a child and teen my family's ministry and their love for God surrounded me. Through my young age, I began to witness and learn what it meant to be a cultivator of life. One of those many lessons came in the form of summer gardening. I learned such things as carefully etching out rows for planting, pulling weeds, picking silk worms off of developing corn plants, gathering multitudes of bean pods and snapping them into large five gallon buckets...cultivating. Now, as an adult with a daughter of my own, my mind, body and soul craved those moments of learning and cultivating.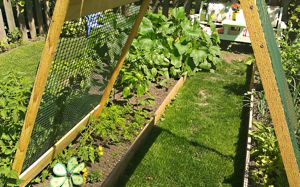 My husband and I decided to grow two 4x12 garden beds in the backyard. We started formatting our plan early in January when the temperatures and air were still cold. Researching and planning. Taking those first steps. We identified a spot in the yard to place the beds. Placement is an important part in urban gardening. In choosing a spot, we needed to pay attention to how many hours of sun the garden would receive (we ended up having a few nearby tree limbs taken down to ensure plenty of sunshine), the proximity to a water line in case of a dry season, the ground readiness, drainage, and the accessibility to move around the garden beds for working in them.
As the ground began to thaw and temperatures started to rise, the hint of spring was in the air. I couldn't wait any longer. I needed to start. We took off the top layer of the soil. Shoveling up all grass roots and tilling the soil. My husband had already built the beds out of untreated cedar wood, and my father helped my husband place the beds on top of the soil and put two stakes in the middle of each 12 foot side to keep the boards from bowing.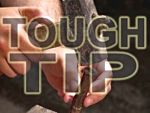 - Let go of any hint of perfection and allow yourself and others to take pride in the job being accomplished. - Cultivating a strong foundation is crucial to yielding beautiful and healthy results. - Format a plan early. Planning in gardening and life help you to prepare better.
Meanwhile, I had been talking to other families in our neighborhood that also grow summer gardens. I found them to be a great resource in deciding how to prepare the soil, what plants would grow best and when to plant. My grandmother and I made a trip to a local garden nursery to scope out seeds and plants. We made notes and drew up the beds with each row sketched out. I also did many hours of reading and web browsing.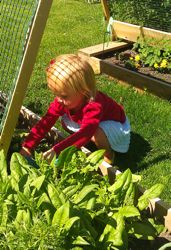 I began to see a consistent theme in all the texts that I consulted. Soil. I knew that if we wanted to have fresh herbs and other plants flourish and produce well then we needed to prepare and cultivate the soil. I began to see that just as in our lives, a strong foundation was crucial to yielding beautiful, healthy produce. So, I did what I love to do. I dug my fingers into the soil and crawled around on my hands and knees taking stock of the type of soil I had to work with. I discovered that my foundation was dark, rich nutrient soil with an element of sand present. I knew the sand would prove to be helpful in drainage.
In addition, I decided to add organic compost, topsoil, and organic fertilizer. I began by mixing organic fertilizer into the already tilled up soil. And then little by little, handfuls at a time, I mixed in organic compost and topsoil until the beds were full. I left about an inch at the top of each bed. However, in hindsight, filling the boxes completely full would be advisable to counter the settling of the soil that naturally occurs.
With the beds ready for planting, I anxiously waited until I had news of the last frost and the temperatures began warming. Mid-March, my grandmother, my two-year old daughter, and I headed out the back door armed with our garden tools. A trowel, a shovel, watering can, seeds, plants and what I found to be my most useful tool, my kneepads!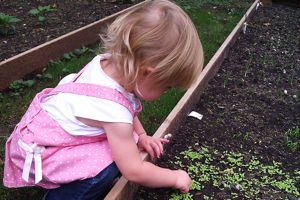 It was a moment in time that I will always remember. Three generations digging their fingers into the barely warmed earth, discussing each row, etching them out with tentative fingers and watching a young child plop seeds in the ground. Reminding myself to let go of any hint of perfection and allow my daughter to take pride in the job she was accomplishing. Being taught once again, that we cannot achieve perfection in this fragile life.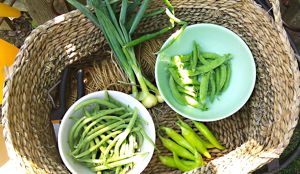 We can only do our best to cultivate our heart, our soul, our mind, and our bodies with God and the things of God. As we begin to do this, we will start to see growth and small sprouts. God will begin to take root and our lives will become beautiful. So, Cultivate. Grow. Bloom.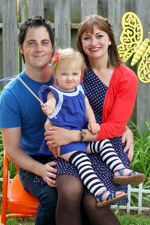 Jessieca Sempsrott gardens with her husband